Available now where books are sold, both online and in your local bookshop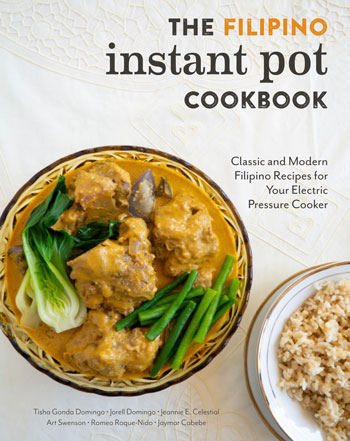 No cuisine and appliance are better suited for one another than Filipino food and the Instant Pot.
From classic dinner staples like the traditionally sour Sinigang na Baboy (pork tamarind soup) to sweet treats like Putong Puti (steamed rice cake), the rich flavors of Filipino food are typically unlocked through a long braise or boil, a delicate steam, or some other treatment by moist heat. Fortunately, this is exactly what the Instant Pot does best.
It's been praised by the Culinary Director of the Filipino Food Movement, the President Emeritus of the Filipino American National Historical Society, and chefs from around the world.
Written by six home cooks, who set out to explore their Filipino heritage and intimate family histories, one dish at a time, The Filipino Instant Pot Cookbook is a collection of over 75 heartfelt Filipino recipes, all carefully translated for preparation in today's most essential piece of kitchenware, the Instant Pot. Just as Filipino food is now a mainstay in the consciousness of foodies from around the world, The Filipino Instant Pot Cookbook is an absolute must-have for every modern home cook. It is written with humor and heart, and lined with beautifully styled photography that will trigger a warm sense of nostalgia.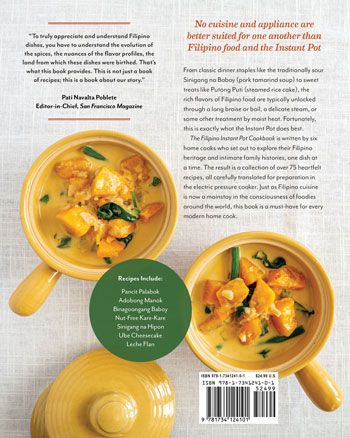 The Filipino Instant Pot Cookbook will help any home cook step into a kitchen and create great Filipino food.
For any setting, without breaking the bank, or the clock. Whether you're cooking for a raucous affair featuring the tableside chatter of an entire extended family or a simple, quiet comfort-meal under your favorite blanket on the couch, The Filipino Instant Pot Cookbook will have you covered.